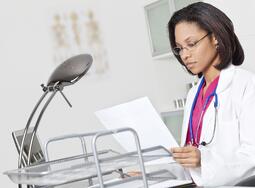 Cases involving medical complexities require very special expertise. At MCS, that expertise is provided by physicians and/or legal nurse consultants who review, analyze and summarize all essential information contained in medical records in chronological order. Related fees are billed on an hourly basis and can be recovered as a billable expense.
How it Works:
Medical Records are sorted and categorized.
Important points in the summary are highlighted in yellow.
Highlighted notes or post-its can be attached to the chronology or records.
Accurately captures the medical record dates, procedure(s), treatment/occurrences(s) and other customized data fields.
Duplicate records are deleted and a log is created of the deleted records.
Can be delivered in Word or PDF format.

PDF format includes options for:

Hyperlinks allow for instant navigation to the respective source pages.
Bookmarking allows for the organization of documents by user-defined categories.
Med-a-Word provides instant definitions of medical terminology.
Post-its option allow easy in-document note taking.
Printable version that contains tab sheets.

OCR searching for key words and phrases.