HD Videos, VIP Experience
Among our extensive service line are multimedia presentations shot in high definition.
In a multimedia presentation, we are able to show videos, transcripts, animations, documents and photos to a witness, and the audience can see the evidence the witness is viewing real time via a live feed shown on a screen. The witness is placed in a PIP screen so during the viewing of this evidence the witness is viewable the whole time, so the audience can still detect reaction to evidence.
During this live feed, the witness or attorneys can annotate the demonstrative evidence being shown by drawing, circling or highlighting text via touchscreen monitors. We supply these monitors for attorneys and witnesses for easy viewing of evidence.
A huge benefit to this service is that it cuts down on paper waste. All parties are able to come to the deposition empty handed, since all exhibits are displayed electronically.
See how the live feed and interactive interface work together:
Let MCS Give You a Winning Edge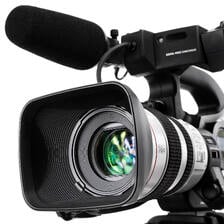 MCS had video production solutions that combine the capabilities of professional videographers and production expertise that will help you leverage the power of video to build a winning case. MCS enables you to meet all of your video deposition needs through one national resource by offering:
High quality solutions for all your video deposition requirements, including legal proceedings and corporate meetings.
Trial presentation and playback services.
Imaging and video/text synchronization support.
Complete video duplication services and archiving support.