Life sciences and pharmaceutical companies have specialized needs and industry standards that pose unique challenges. Regulatory requirements and safety compliance in R&D Lab and Manufacturing environments necessitate an attention to quality and standards that can only be provided by a best-in-class service provider.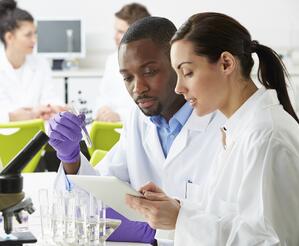 MCS's depth of industry knowledge and proven range of services is augmented by our unique ability to help our life science clients cut costs without compromising safety.
MCS provides vital laboratory support services to our life sciences clients. Allow us to manage your solvents and materials delivery to labs in order to maximize the time of your research teams. MCS will staff autoclave glass washing stations and handle glass return to labs to keep your focus on the science.
Letting us take care of high pressured cylinder and dewar delivery of gas to labs ensures that your labs are safe and ready for research. MCS's specialized expertise for hazardous materials handling means your research material or products will be safely received, handled, packed or shipped within your facility or anywhere around the world according to every regulatory standard for delivery.
Add these specialized pharmaceutical and bio-technology service offerings to our other services, and you get a partner that can handle all of your support services whether back-office or back-lab, so that you can focus on what's most important.