Relativity Redaction Application
Blackout, an automated redaction application for Relativity, allows MCS to further reduce the time, cost and room for error during the review process.
Based on criteria that you specify, the tool automatically redacts documents - making the review process faster and more efficient. It reduces the margin of error by allowing you to carefully configure rules for redacting words, phrases and patterns (phone numbers, SSNs, etc.). Blackout also builds a thorough QC process directly into the review workflow, giving you confidence in accuracy.
The automated tool works around the clock to help you meet review deadlines, cutting redaction turnaround time by about 90%. Best of all, progress indicators allow you to get up-to-the-minute information on your Blackout jobs, allowing you to see detailed information on the time elapsed and remaining for your redaction or highlighting jobs.
See how the tool works:
Redactions on a Massive Scale
Blackout now gives you the ability to upload 100,000 rules at once. Rather than set up each rule one-by-one within the Blackout interface, you just upload a single CSV file and all of the rules import automatically.
See how it works here:
Template-Based Redactions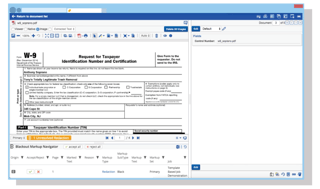 Blackout has the ability to identify and redact words, phrases and patterns from your case documents, as well as content across similar forms and layouts. For example, if you know where patient information is found on a particular healthcare form, you can redact those areas on one document, then use that one document as your template to apply redactions to that same area on the entire set of forms.
See how template-based redactions work:
Accuracy Ensured
Blackout allows you to resolve mismatches or issues with OCR that the program brings to your attention within the review layout. You can also use fuzzy matching for word or phrase rules that might be prone to OCR errors. Blackout will automatically redact those terms, even if a few characters are not correctly OCR'd, further automating the process and allowing your reviewers to focus on other important matters.

See how fuzzy matching works to ensure accuracy: